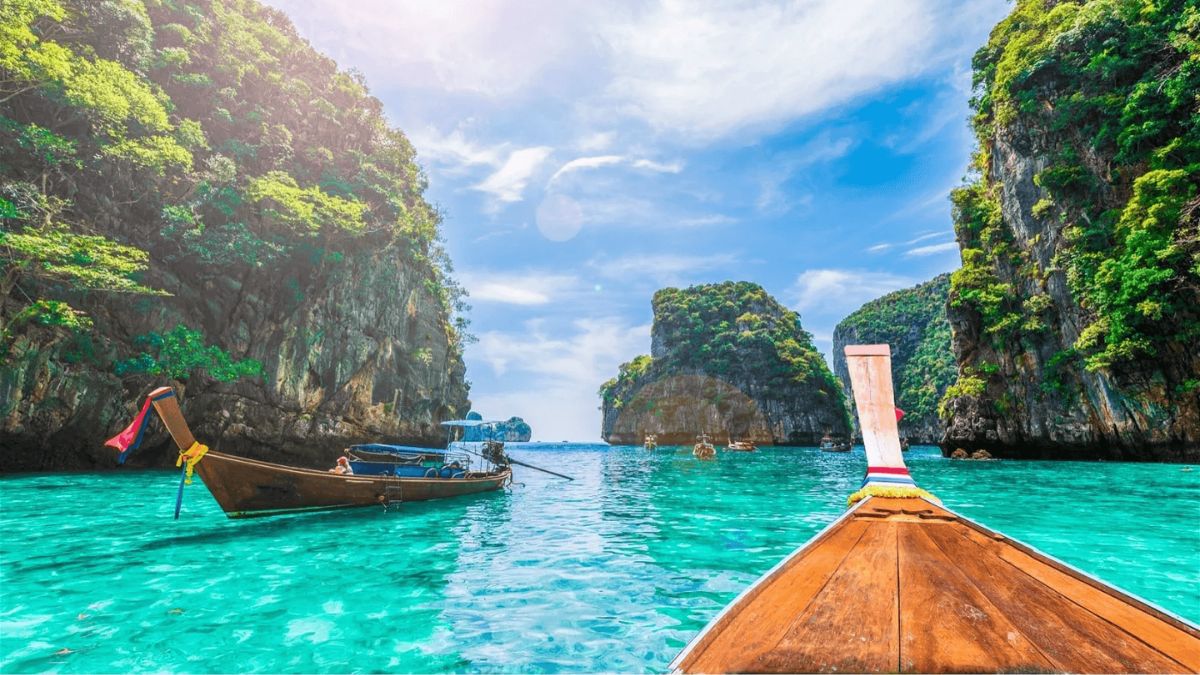 Thailand, often referred to as the "Land of Smiles", has steadily clinched its position as one of the most sought-after tourist destinations in the world. From its breathtaking beaches to bustling markets, ancient temples, and delectable cuisine, it's no wonder travelers from all corners of the globe are drawn to its myriad charms. But if there's a time of year that stands out in the calendar for adventurers and explorers, it's undoubtedly the months of October and November. As the monsoon rains bid farewell, these months usher in the country's cool season, making it an ideal period to explore Thailand's diverse landscapes and partake in the enchanting Loy Krathong festival, where thousands of lanterns illuminate the night sky in a magical display. Join us as we delve deep into the heart of this stunning nation and uncover the reasons behind its ever-growing allure.
THAILAND'S ALLURE IN OCTOBER & NOVEMBER:
In the months of October and November, Thailand transforms into a haven of tranquility and cultural vibrancy. As the cool breeze replaces the monsoon showers, the country unveils its most pleasant weather, offering travelers clear skies and balmy temperatures perfect for exploration. This period, being slightly off-peak, ensures fewer crowds, allowing visitors to experience Thailand's stunning attractions in relative solitude. The favorable travel conditions extend beyond just the weather and the crowds. Roads less muddied from rain and seas calmer make for safer and more enjoyable journeys, whether you're hopping between islands or navigating the verdant countryside. Transportation options are more reliable and with less demand, sometimes even more affordable.
FESTIVALS & CULTURAL EVENTS
October and November in Thailand are months rich in cultural festivities and vibrant celebrations. From the awe-inspiring Vegetarian Festival, marked by intricate ceremonies and meat-free feasts, to the endearing Loy Krathong, where thousands release floating baskets on waterways to signify letting go of negativity, the country has become a lively tableau of its age-old traditions. For tourists, this period offers an unparalleled chance to immerse themselves in the heart of Thai traditions, joining locals in dances, rituals, and lantern releases, making their journey not just a visual delight but a deep dive into Thailand's cultural essence.
GASTRONOMIC DELIGHTS:
During October and November, Thailand's already renowned culinary scene reaches new heights, echoing the spirit of the season. Seasonal dishes crafted from freshly harvested produce make their way to the bustling street food markets, offering a delightful array of flavors. Special food festivals, celebrating everything from spicy curries to sweet mango delicacies, provide locals and tourists alike with an epicurean journey unlike any other. In Thailand, food is not merely sustenance; but becomes truly an inseparable and integral part of their rich culture. For travelers, indulging in these culinary delights, from spicy tom yum soups to fragrant green curries, becomes more than a gastronomic adventure; it's a deep dive into the heart and soul of Thai tradition and identity.
CULTURAL LANDMARKS AND HISTORICAL SITES
Thailand's vast tapestry of history is eloquently narrated by its resplendent temples, majestic palaces, and age-old landmarks. These architectural marvels, from the glistening Grand Palace in Bangkok to the ancient ruins of Ayutthaya and Sukhothai, are testaments to the country's grandeur and its deep-rooted Buddhist traditions. Every intricately carved detail and every towering stupa tells tales of bygone eras, powerful dynasties, and the ever-evolving confluence of culture and spirituality. For those seeking 'places to visit in October outside India', Thailand stands out not just as a tropical paradise but as a captivating journey through time, offering glimpses into centuries of Southeast Asian history and heritage.
·Grand Palace: The Grand Palace in Bangkok is a spectacular building complex that has been the Thai kings' official residence. Its intricate architecture blends Thai, European, and Chinese styles, representing the country's rich cultural tapestry. The Temple of the Emerald is considered one of the sacred sites in Thailand, encapsulating the nation's deep-rooted Buddhist traditions.
·Ayutthaya Historical Park: Once the second capital of the Siamese Kingdom, Ayutthaya stands as a testament to a bygone era of grandeur. The ruins, spread across the historical park, depict a harmonious blend of Khmer and early Sukhothai styles. The park preserves the remnants of temples, palaces, and sculptures, portraying a city that was once among the world's largest and most cosmopolitan.
·Chiang Mai: Situated in the northern part of Thailand, Chiang Mai is a city where prehistoric and modern converge. Surrounded by mountains and beautiful temples, it's home to the famous Wat Phra Singh and Wat Chedi Luang. The city also hosts the Yi Peng Lantern Festival, a mesmerizing annual event that showcases its rich Lanna heritage.
·Bangkok: As Thailand's bustling capital, Bangkok offers a mix of the old and the new. With its iconic temples, such as Wat Pho and Wat Arun, alongside bustling markets and ultramodern skyscrapers, it's a reflection of Thailand's journey from a historic kingdom to a contemporary metropolis.
·Pattaya: Known for its vibrant nightlife and pristine beaches, Pattaya also offers a glimpse into Thai culture with attractions like the Sanctuary of Truth – a wooden structure epitomizing Thai craftsmanship, and the Mini Siam Park, showcasing miniature replicas of Thailand's and the world's iconic landmarks.
·Koh Samui: A tropical island, Koh Samui is famed for its palm-fringed beaches and dense rainforests. It also houses the iconic Big Buddha temple and Wat Plai Laem, reflecting the island's cultural roots amidst its natural beauty.
TRAVEL TIPS AND RECOMMENDATIONS
Travelers to Thailand should note that many nationalities can enter visa-free for short stays, but it's essential to check specifics with the Thai embassy beforehand. When packing, prioritize light, breathable clothing. Also, ensure that you pack some modest attires that you can wear to temples. Local customs emphasize respect for Buddha images and the Thai Royal Family, and it's customary to remove shoes in homes and certain businesses. For safety, stick to bottled water and be cautious of tourist scams. To enrich your visit, explore destinations like Bangkok's Grand Palace, Chiang Mai's old city temples, Phuket's beaches, and the ancient ruins of Ayutthaya. Engage in activities such as Thai cooking classes, island hopping, and experiencing vibrant night markets. For a deeper cultural immersion, participating in local festivals like Loy Krathong or Songkran is a must.
LAST WORDS
In October and November, Thailand unveils its exceptional allure as the rainy season recedes, giving way to cooler breezes and crystal-clear skies. These months beckon travelers with vibrant festivals, such as the ethereal Loy Krathong where thousands of lanterns ascend into the night sky, symbolizing the release of negativity. Streets come alive with colorful parades, and its pristine beaches, lush landscapes, and bustling cities promise a blend of serenity and adventure. For those yearning to immerse themselves in this Thai tapestry, now is the opportune moment to plan your sojourn. To ensure an experience you'll cherish forever, consider the meticulously curated Thailand Tour Packages by Flamingo Transworld — your gateway to the Land of Smiles.
Contact Information:
Mr. Siddharth Shah
www.flamingotravels.co.in/
+91 98250 81806
If you have any objection to this press release content, kindly contact pr.error.rectification[at]gmail.com to notify us. We will respond and rectify the situation in the next 24 hours.