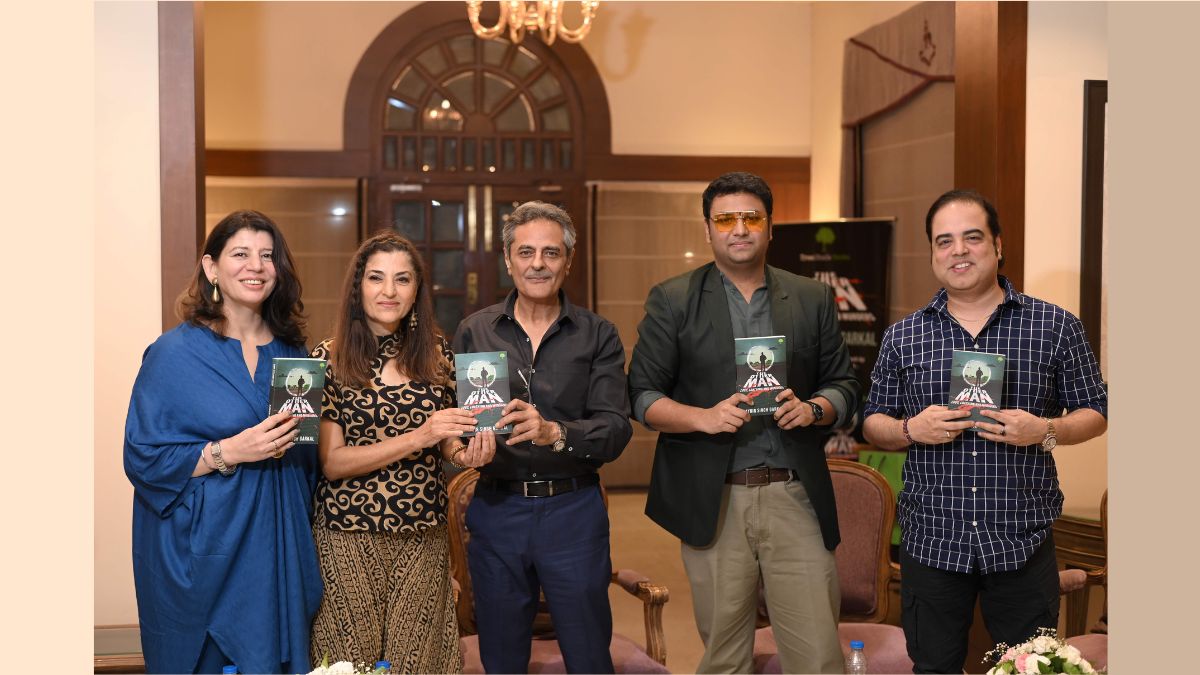 From left to right: Ritu Lamba Garkal, Ambika Shukla, Ajaybir Singh Garkal, Suhail Mathur, Vineet Bajpai
New Delhi [India], September 9: Author Ajaybir Singh Garkal is back with another electrifying fiction thriller, after the success of his debut book – Making The GodsDance, the much-awaited The Other Man was recently released at the Delhi Gymkhana Club. The launch kicked off with a tête-à-tête over books and stories between Ajaybir and the eminent panellists – celebrated entrepreneur and bestselling author Vineet Bajpai, well-known personality and animal rights activist Ambika Shukla, and one of India's premier literary agents and acclaimed author Suhail Mathur, who also moderated the interaction. The event was attended by the author's friends, family, and well-wishers, including several notable personalities such as Smt. Maneka Gandhi and singer Shibani Kashyap.
Speaking at the launch event, Ajaybir said, "The characters in my book are inspired from the personalities I come across. In this book, the plot throws out the characters and their characteristics. In this literary creation, I have crafted a world where distinctive characters collaborate and collide amidst strong political undertones. Within the pages, the narrative weaves a fictional tale of an impending martial law situation in India. As a writer who connects with his audience, my foremost duty is to infuse inspiring and relatable characters with a touch of imagination and creativity, enabling readers to forge a profound connection with these characters."
Talking about the plot of the book, Ambika Shukla said, "India had its last mutiny in 1857, which says a lot about us as people. We are not mutinous people. Our army is the most reliable organisation, and a coup is very far from anything that could ever happen in India. So to imagine a military coup in India doesn't stem from an immediate vicinity; it comes from a very fertile imagination."
Talking about the book, Suhail Mathur said, "One of the things that really stood out for me in the book was that it had the perfect amalgamation of several genres. So, while we can say it's a murder mystery, it has also got political intrigue; it has stories for fashion running in parallel, but what really sets the book apart and stuck with me were the two characters – father of Jogmer and Sullivans. So I would request you all to read this book."
Shedding light on the publishing ecosystem, Vineet Bajpai said, "The demand and supply dynamics between authors and publishers highlight a vast gap. If an author sends a manuscript to, say, one of the leading publishing houses, the latter's website advises that a response should be expected in 6 months! That's just one indicator of how difficult and arduous it can be for writers to get published. The commercial reality of these large publishers, like most other businesses, is that 80% of their revenue comes from 20% of their 'star' authors. So, despite their best intentions, these publishing houses are compelled to stay focused on the handful of their proven, highly saleable writers. In such a scenario, there should be more publishing houses that offer diverse avenues to new authors. Contemporary, new-age publishers keep overheads low, are digitally savvy, and sell aggressively online rather than being entirely dependent on conventional distribution channels. They can be precisely what the book trade needs at this time."
Further adding to this, Garkal shared his views, "The difference has been massive in the last 17 years since my debut book was published. In 2006, you needed to know someone who knew a publisher; the publisher had to like your story, and it was done. But today, things move very differently; there's a lot more professionalism and crispness; that's the difference between 2006 and 2023."
The new release is an electrifying fiction thriller and a gripping murder mystery with a protagonist who is a young, well-connected journalist. As the narrative unfolds, the rookie journalist sniffs out rumours of an upcoming military coup being orchestrated by an iconic former army chief, General Jogmer. The clues lead him to Rajasthan, where the first Jogmer Festival is being hosted by a conglomerate of NRIs headed by the famous billionaire – Vikram Bhagat, whose whimsical daughter fancies Jogmer's reckless younger son. But then, two scandalous murders take place in quick succession, and the General's two sons become the suspects.
The book is published by the Delhi-based publishing house TreeShade Books and is available across both online and offline bookstores in India.
If you have any objection to this press release content, kindly contact pr.error.rectification[at]gmail.com to notify us. We will respond and rectify the situation in the next 24 hours.